Sweet '14 Rich Coils - Gibson/PAF Humbucker Size
Direct drop-in replacement for standard Humbuckers - Sweet yet clear, rich yet defined single coil sound in customisable covers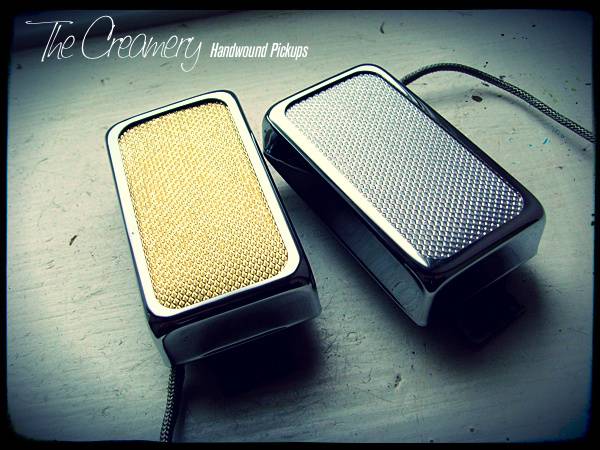 I've been working on this on and off for a couple of years, trying various specifications and modifications to get the design just right for that rich clean, snappy sound.
I've made parts by hand, had custom parts manufactured specifically and finally, finally, after many, many prototypes & testing sessions they're ready - The new Sweet '14 Foil style pickups. I wanted to create a customisable, standard humbucker/PAF size fatter single coil pickup that had the sweetness & warmth of the original Gold Foils whilst keeping great clarity & string definition with a modern punch & snap that really has a powerful sound when cranked - to really cut through the mix.
These are the single coil versions, I'm currently at the final prototype stage of a hum-cancelling/humbucker version too.
The thinner double coated plain enamel 43AWG coil wire helps push the sound that little bit more towards the mid-range for the sweetness I was after and although my personal preference is for an Alnico 2 Bridge/Alnico 4 Neck I decided to offer the full range of magnet options for those who like to create their own combinations - The original 'Gold Foils' people love had weaker rubberised ferrite magnets and although I chose not to use these for the new Sweet '14 Rich Coil pickups as I just wanted something stronger, something a little more modern, I will be using these for the new 44awg true spec/size Gold Foils I'm launching once I've had all the covers & baseplates custom manufactured.
You can read more about the Sweet '14 Rich Coil custom pickups here