Custom Replacement Humbucker Pickups - VINTAGE, MODERN UPGRADES
Creamery Custom Handwound Replacement Humbucker Pickups & Upgrades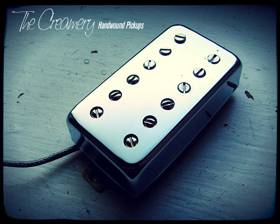 From vintage sounding humbuckers to modern & custom design replacements I've designed my humbucker range for a variety of sounds & styles - from classic PAF style Humbuckers through modern alterntive designs to higher output ceramic & Alnico 8 pickups, created to really push your amp.
My replacement humbuckers are all handwound here in my workshop. Each pickup is wound at slowish speed with 42 AWG (46 SWG), 43 AWG (46.5 SWG) plain enamel or vintage formvar copper wire before being wax-potted in a measured combination of beeswax and paraffin (though you can order my covered humbuckers unpotted for that classic 'honkier' sound).
I wind all replacement humbuckers with a small, specific coil offset for each design to open up more frequencies, giving a richer sound. A humbucker by nature cancels some of the buzz you get with 60 cycle hum but in doing so other frequencies are shut out too which can lead to a somewhat sterile sound. I claw some of these frequencies back through custom, offset, patterned winding.
Handwound at my workshop here in Manchester
You can buy a complete set of Creamery Classic Replacement Humbuckers (Bridge & Neck) in the shop. You can even mix and match the Alnico magnets to create your own set.

If you're after a custom set of replacement Humbuckers, just get in touch with details of the kind of voice/sound/output you're after and we can work on the best design for you. I don't have pickusp all boxed up ready to send out, each order is custom made so I can tweak the specifications to suit your own guitar & playing.
NOTE: I do offer an 'Aged Nickel' cover. I don't use chemicals to artificially 'age' the cover as the waste chemicals are very difficult to dispose of here in my area. With this in mind my 'aged' covers are more of a 'brushed' nickel where I take the sheen off the cover by hand giving an older look. They do have that lived-in look to them. They just don't have the artificial track marks achieved through chemicals.
Handwound in my workshop here in Manchester
Use the tab menu below to view the full range of Creamery Replacement Humbucker Pickups