Custom Domino 'Split-Coil' Single Coil Voiced Gibson/PAF size Pickups
Creamery Custom Hum-Cancelling, Single Coil Voiced pickups in a direct drop-in replacement Gibson/PAF Humbucker Size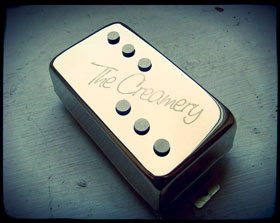 After a conversation about the old Wide Range Humbucker modification I came up with these - Humbucker Sized, Noise-Free, Single Coil Voiced Pickups.
The 'Domino' Split-Coil, Single Coil voiced Humbuckers are based on the old Fender® Wide Range Humbucker trick where the 3-a-side hidden threaded magnets were removed from each bobbin from underneath, leaving a hum-cancelling, clear, bright & defined, fatter, fuller single coil sound from the remaining pickup.
While not intended to be a vintage recreation of the original Wide Range Humbucker (I make those here) & this old modification trick, I've tried to create a pickup close to the original modified sound that will fit into a standard humbucker cavity & mounting ring.
Essentially a humbucker sized single coil but with more presence and a fatter, fuller, hum-cancelling sound. Like the standard single coil, each string has its own magnet for improved clarity & string definition.
The 'Domino' Split-Coil - a hum-cancelling, noise-free single coil voice from a standard humbucker sized pickup and you can customise them with your choice of output & magnets to shape the overall sound - For those looking for something a little different, an alternative to traditional Humbuckers.
PLEASE NOTE - The 'Domino' Single Coil Voiced Pickups FIT STANDARD HUMBUCKER CAVITIES & MOUNTING RINGS. Also, I can stagger the magnets to follow your neck radius. Just let me know whether you have a 7.25", 9.5", 12" etc etc neck radius and I'll stagger the magnets accordingly. This way you can keep a good action & string balance as the magnets will follow the radius of your fingerboard.
Handwound in my workshop here in Manchester
Handwound in my workshop here in Manchester
Use the tab menu below to view the full range of Creamery Replacement Domino Pickups
---

PAF / Humbucker Sized, Single Coil Voiced Pickups

| | |
| --- | --- |
| Magnets | Alnico 2, 3, 4 or 5 |
| Coil Wire | 42AWG |
| Lead Wire | Simple 3-Way |
| Bridge Output | 8.3k |
| Neck Output | 7.4k |

Gibson / PAF Size Domino Split-Coil

Hum-Cancelling, Single Coil Voiced Pickups in a Standard Humbucker Size

Based on the old Wide Range Humbucker trick where the 6 hidden threaded rod magnets are removed to give a clear, hum-cancelling, fat single-coil sound. The difference with my 'Domino' pickups is that I've designed them in a standard Gibson/PAF humbucker size, so you can have true hum-cancelling, noise-free single coil voiced pickups that will fit any standard humbucker equipped guitar and pickup/mounting ring.

Creamery 'Domino' Split-Coil Pickups - Magnet Choices

With Alnico 2 magnets the overall sound is slightly warmer, slightly more resonant whereas with the slightly stronger Alnico 5 the soud is a little brighter, more attacking, more focussed - both with classic single coil sounds in a humbucker size, hum-cancelling pickup. A great pickup if you're after a noise-free, humbucker sized single coil sound. Magnets don't have 'Tone' but they do have strength which has an effect on the overall sound, all other things being equal.

Staggered or Flat Pole Magnets

I can stagger the individual Alnico rod magnets to suit your neck radius for better string balance - Just let me know.

> Back to the full range of Creamery Replacement Domino Pickup Upgrades

---

PAF / Humbucker Sized, Single Coil Voiced Pickups

| | |
| --- | --- |
| Magnets | Alnico 2 or 5 |
| Coil Wire | 42AWG |
| Lead Wire | Simple 3-Way |
| Bridge Output | 8.3k |
| Neck Output | 7.4k |

Gibson / PAF Size Domino Split-Coil

A fatter bridge & neck pickup due to the mix of Taller & Shorter magnets.

Based on the old Wide Range Humbucker trick where the 6 hidden threaded rod magnets are removed to give a clear, hum-cancelling, fat single-coil sound. The difference with my 'Domino' pickups is that I've designed them in a standard Gibson/PAF humbucker size, so you can have true hum-cancelling, noise-free single coil voiced pickups that will fit any standard humbucker equipped guitar and pickup/mounting ring.

Where the standard Domino bridge/neck is single coil voiced in a hum-cancelling, humbucker size, the Domino Fat Bridge/Neck adds shorter/weaker magnets hidden underneath the cover. Each string has its own set of magnets. The difference with this fatter Domino is that the shorter size rod magnets hidden away help create an overall warmer & slightly crunchier sound.

Fatter than a single coil but not as beefed up as a humbucker. Essentially a rounder sounding, hum-cancelling single coil with more presence & more crunch.

Creamery 'Domino' Split-Coil Pickups - Magnet Choices

With Alnico 2 magnets the overall sound is slightly warmer, slightly more resonant whereas with the slightly stronger Alnico 5 the soud is a little brighter, more attacking, more focussed - both with classic single coil sounds in a humbucker size, hum-cancelling pickup. A great pickup if you're after a noise-free, humbucker sized single coil sound. Magnets don't have 'Tone' but they do have strength which has an effect on the overall sound, all other things being equal.

Staggered or Flat Pole Magnets

I can stagger the individual Alnico rod magnets to suit your neck radius for better string balance - Just let me know.

> Back to the full range of Creamery Replacement Domino Pickup Upgrades

PAF / Humbucker Sized, Single Coil Voiced Pickups

| | |
| --- | --- |
| Magnets | Alnico 2, 3, 4, 5 or 8 |
| Coil Wire | 43AWG |
| Lead Wire | Simple 3-Way |
| Bridge Output | 15.6k |

Gibson / PAF Size Domino Split-Coil

Darker, Warmer, Hum-Cancelling, Single Coil Voiced pickup in a Standard Gibson/PAF/Humbucker Size

Based on the old Wide Range Humbucker trick where the 6 hidden threaded rod magnets are removed to give a clear, hum-cancelling, fat single-coil sound. The difference with my 'Domino' pickups is that I've designed them to fit a standard Gibson/PAF/Humbucker size, so you can have true hum-cancelling, noise-free single coil pickups voiced that will fit any standard humbucker mounting ring and cavity.

Overwound to hotter specs than my regular Domino, The Creamery 'Dark Star' is a hotter, darker, warmer hum-cancelling pickup with a unique fuller, much fatter, darker and higher output sound while still retaining much of that vintage single coil clarity. I've really designed it for those who want more warmth and a darker sound from their bridge position in a hum-cancelling design - Great for H-S-S Strat players who want to keep more of a single coil sound in the bridge, just fatter, fuller, less brittle.

Creamery 'Domino' Split-Coil Pickups - Magnet Choices

With Alnico 2 magnets the overall sound is slightly warmer, slightly more resonant whereas with the slightly stronger Alnico 5 the soud is a little brighter, more attacking, more focussed - both with classic single coil sounds in a humbucker size, hum-cancelling pickup. A great pickup if you're after a noise-free, humbucker sized single coil sound. Magnets don't have 'Tone' but they do have strength which has an effect on the overall sound, all other things being equal.

Staggered or Flat Pole Magnets

I can stagger the individual Alnico rod magnets to suit your neck radius for better string balance - Just let me know.

> Back to the full range of Creamery Replacement Domino Pickup Upgrades

---

Custom / Alternative Domino Pickups

| | |
| --- | --- |
| Magnets | Threaded Alnico 5 |
| Coil Wire | 43AWG |
| Lead Wire | Simple 3-Way |
| Bridge Output | 12.3k |
| Neck Output | (Currently Bridge Only) |

Gibson / PAF Size Domino Split-Coil

Custom "Doubled Up" Hot Single Coil Voice

A fatter, higher output pickup designed specifically for the bridge position. Individual threaded magnets give clarity as you match your guitar's neck radius and 'dial in' each string, in essence giving you a simple EQ for each string. Still with a bright attack, the Hot Coil 'Domino' pickup warms up the bridge position giving a higher output "Doubled Up", crunchier fatter sound.

Essentially a twin single coil design to fatten up your bridge position for those who want to keep the single coil focus.

> Back to the full range of Creamery Replacement Domino Pickup Upgrades

---

Creamery Domino Pickup Reviews

Thanks for the great feedback

Its great when I get positive feedback from customers, and good reviews & word-of-mouth really help the custom shop maker so with this in mind, I've created this page of reviews.

---

All the comments below were either emailed to me or posted to my Twitter or Facebook pages.

>Have a read through what others are saying about my replacement Domino / Split-Coil Pickups and get in touch if you'd like me to custom make some pickups for you. I don't have pickups all boxed up ready to send out, each order is custom made which means I can modify the specifications to suit you, your playing and your guitar.

It really means a lot

---

You're a genius. Soundhole Domino sounds amazing. I have the new sound. Thank you!

---

The Tele is back together. Dominos from The Creamery sound absolutely amazing! You want chime? You want air? Love them.

---

Many many thanks for your expert design, on the absolutely wonderful Domino pickups. These are single coil but fit into a humbucker perfectly which is exactly what I wanted in my PRS Hollowbody. With your help and advice, you recommended a ferrous plate in the bridge for extra twang, after I mentioned I wanted them to sound like a Tele.... You also slightly 'under wound' them when I said I was an all out country player.

WELL, did you deliver? This thing now outclasses any other tele with that snap, twang and bite that country players can't live without..... WOWEEE!! ...... YEEHAAAHHH!!!! I really think PRS should take a good look at your pickups and style of winding. With the likes of Brent Mason, Johnny Hiland and David Grissam getting the best tele tones out of a PRS.

Yet again, thanks! I am overwhelmed, with the excellence in the front, middle and bridge positions.

Yours Sincerely

---

All wired up now. It has a beautiful, bright, jangly sound, not as "spiky" as the Alnico 5 flavour of the same pickup I bought from you last year, but that's exactly what I was looking for. I find it very responsive, not too dirty on the clean channel, great for crunchy rhythm stuff, but also responds nicely to a bit of drive. I haven't tried it with any high gain stuff as I don't really have the gear for it, but I guess it's the kind of thing it's made for anyway.

The build quality is obviously top class. They sound awesome, I'm very happy with them. Really glad I've found The Creamery. Many thanks again. Keep up the brilliant work!

---

I installed them (in a PRS SE – one of the new ultra light ones with a F hole), and they sounded great .. exactly what I was looking for – I love single coils (not a big fan of Humbuckers) and I love the clean, bright Fenderish tones of singles coils (I own mostly Tele's), but I also like the playability of the PRS SE guitars, so a perfect combination – your Wide-O's work great across the sonic spectrum, from jangly clean to overdrive – very impressed indeed!

---

Gretschist tones, very low noise and never have I had pickups that sound so responsive and usable with the volume and / or tone controls rolled back. Clear and defined , to put it mildly, lovely presence and ability to capture tonal nuances whether tinkling in rhythm mode or soloing, jangly and chimey come near to describing the resulting tone. Turn up the wick and I have an assertive sound that cuts through for solos, in a somewhat different way to a Fender or Gibson (especially)

---

I have just re-installed the new pups (got the hot and ground mixed up). I can say they have completed my SG. Your pups match the sound in my head and for that I thank you. I can't wait to get back later to run them through the entire rig and see what sounds I can get.

---

The pick ups arrived today and my genius son wired them up for me....it sounds incredible! Ricky-like chime from the bridge Black Cat, lovely open and breathy tones from the neck Domino and the combined tone is the kind of honking Fender rhythm sound I've been looking forever for. It's an unusual mod, putting these p/us in a semi-acoustic but I've always loved playing the Dot but never got on with the low grade humbuckers – I'm not a humbucker kind of guy anyway, so I think – thanks to your wonderful pickups – I've finally got my dream guitar! Thanks again

---

I did sit with the guitar and have a good listen to your pickups. They do sound rather nice, definitely humbucker fullness, but there's a sparkle to the highs that one doesn't get with a traditional h/b. I guess your idea works! Good stuff......it's always nice to find something different.

---

I'm really liking them. I especially like the neck pickup, the Wide-O goes very well with the fat Domino in the bridge.

---

Sounds great! Really happy with everything. Your stuff is Spot-On.

---

The pickups crossed the pond, made it safely to my doorstep, and are now resting comfortably in my guitar. Firstly, I want to say how unbelievably amazing they sound!. The stock Humbuckers in my guitar sounded dull, and all together underwhelming. The Dominos are absolutely flawless. Your pickups have completely nailed that elusive tone, I've been chasing after.

Thank you very much for being so patient with my questions, and guiding me through the process of finding the right sound. You do fantastic work. I can't say enough good things about your customer service, or the quality of your products. Thank you again!

---

I love this pickup!

---

Just fitted the upgrade into my 72 Custom Telecaster yesterday. What a revelation. Fantastic tone, dynamics and note separation. Actually unlike any pickup I've ever heard. Everything I like about single coils and more- and so much better than the muddy sounding 're-issue' 'bucker that Fender ship the guitar with. These are the tones I was looking for. Thank you! Very happy.

---

> Back to the full range of Creamery Replacement Domino Pickup Upgrades