Vintage, Classic, Modern & Alternative Design Replacement P90 Pickups
Custom P90 Soapbar, Dogear & Casino Pickups from The Creamery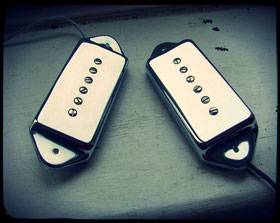 Fatter, fuller & grittier than standard Strat single coils, my replacement P90 Soapbar, Dogear & Casino Replacement pickups are handwound based on vintage, modern & custom designs, geared towards different sounds & styles of play.
I do pay homage to the classic original specifications still loved to this day, whilst also making new & unique alternative designs as direct drop-in replacements - for those looking for something a little different.
Whether it be the raw, vintage Les Paul Jnr sound, through Goldtops to modern day grittier, higher output and hum-cancelling (humbucker) versions, I've designed a replacement P90 Soapbar & Dogear range to suit the sounds you're after and the styles you play.
If you're after a custom set of replacement P90 pickups, just get in touch with the kind of voice/output you're after and we can work on the right design for you.
Handwound at my workshop here in Manchester.