Wiring Colour Codes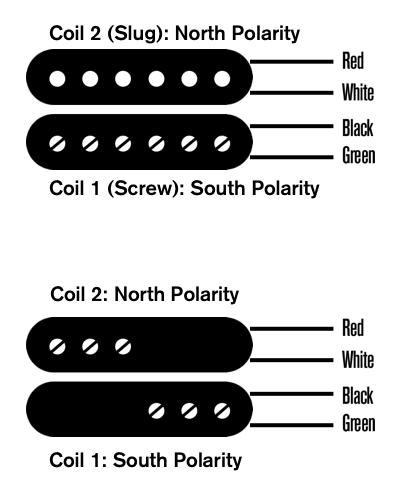 My 4-Way Wiring Colour Codes:
Looking from above with the lead wire exiting the pickup baseplate from the bottom left:
1st coil:
HOT: Green or Yellow
GROUND: Black
POLARITY: South Up
2nd Coil:
GROUND: Red
HOT: White
POLARITY: North Up
if not using the 4-way then its:
GROUND: Black
HOT: RED
... and solder the Yellow/Green wire and White wire together before taping them back with electrical insulation tape.
For regular vintage braided wire the outer metal braided sleeve is GROUND and the inner wire core is HOT.
If you're using the Seymour Duncan Wiring Diagrams, here are the conversion colour codes:
Creamery Green (Sometimes Yellow) = Duncan Red
Creamery Black = Duncan Green
Creamery Red = Duncan Black
Creamery White = Duncan White
Single Coils:
White/Cream = Hot
Black = Ground
if there is a seperate Red wire, this is a seperate ground for the baseplate to ensure 'in-phase' with other manufacturer pickups.