Creamery Wide Range Humbucker for Jazzmaster
Jazzmaster Wide Range Pickups
Jazzmasters are wonderful guitars to modify. The electrics and cavity space make them great for playing around with. One of the more popular modifications, and perhaps the one I get asked about the most is adding Wide Range Humbuckers to the Jazzmaster. Its a simple modification that gives a great versatile sound.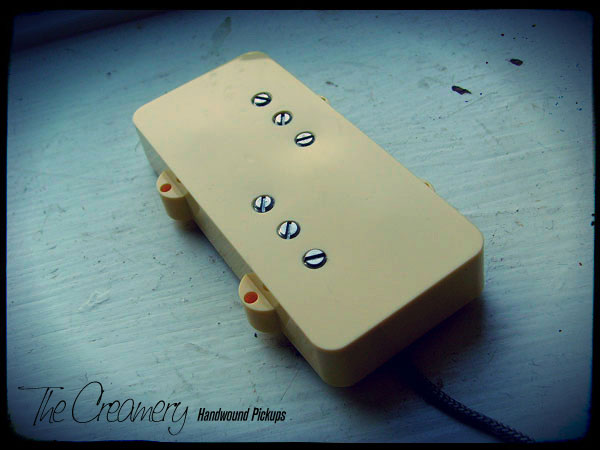 Creamery Jazzmaster Wide Range Humbucker Pickups
Jazzmaster Replacement Pickups - The Wide Range Humbucker Sound
It was the new wave / alternative / indie scene that perhaps breathed life back into the Jazzmaster guitar from the late '70s onwards. Available cheaply in second hand pawn shops, the Jazzmaster became a popular guitar to modify and wth bands such as Sonic Youth & My Bloody Valentine from the '80s onwards visibly using modified versions onstage, the popularity of the Jazzmaster increased.
Modifying the Jazzmaster with Wide Range Humbuckers
The reason I get so many emails & requests for the Wide Range humbucker in a Jazzmaster size is the sheer versatility of the Wide Range sound. Essentially two single coils together with individual adjustable threaded magnets over a ferrous reflector plate, it balances the warmth & midrange of a standard humbucker with the clarity & definition of a single coil that's great for effects and cutting through the mix. Played clean, there's a great 'doubled up' single coil sound.
Creamery Replacement Jazzmaster Wide Range Humbucker Pickups
Creamery Custom Handwound Jazzmaster Wide Range Pickups
Made with handwound offset coils on custom designed bobbins, individual threaded magnets, internal ferrous reflector plate and a very thin custom manufactured nickel silver baseplate to help keep more of the higher frequencies - my Creamery Jazzmaster Wide Range Humbucker is a great offset guitar modification.
Jazzmaster Wide Range - White, Black or Aged White Covers
Available in a choice of brilliant white, back or vintage aged white (cream) covers, the Creamery Wide Range Humbucker for Jazzmaster is available now.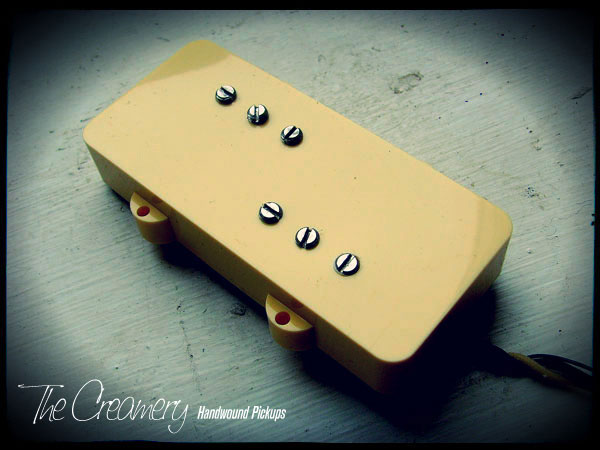 Creamery Custom Handwound Wide Range Humbucker for Jazzmaster
You can find out more details and specifications of my Creamery Jazzmaster Wide Range Humbuckers here.