Creamery Sonic-Six Humbucker Sized Single Coil Pickups
Humbucker Sized Single Coil with Adjustable Threaded Magnets
A true single coil pickup in a standard Humbucker size. The Creamery Humbucker Soic-Six pickup for Humucker houses a single, fat 43AWG coil wound around individual threaded Alnico 5 magnets.
Humbucker Sized Single Coil Pickups
The Sonic-Six pickup is shaped to fit a standard Humbucker cover & mounting ring with no modifications necessary. Huge, fat single-coil tones still with clarity, presence & a defined voice with the added bonus of being able to adjust the height to suit the radius of your fingerboard. Get true single coil tones in a standard humbucker size. Great fat, rounded clean tones - turn up the gain and let the pickup scream.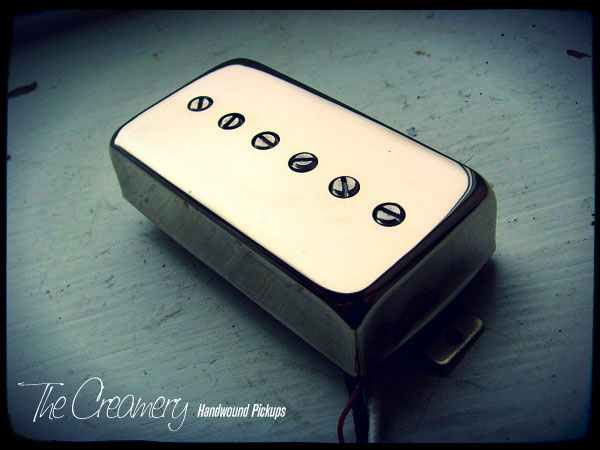 Creamery Custom Handwound "Sonic-Six" Humbucker Sized Single Coil Pickups
For more information on my Sonic-Six, Humbucker Sized Single Coil Pickups, click here