Replacing Standard P90 Pickups with Custom Handwound Replacements
Creamery Classic '57 P90 Pickups
Creamery Custom Handwound Classic '57 P90 Pickups
Magnets: Alnico 5
Poles: Nickel plated steel slotted Fillister head screws
Coil Wire: 42AWG Plain Enamel
Lead Wire: Vintage Braided
Bridge 8.3k
Neck 7.5k
Dogear or Soapbar
A higher output than my Classic '53 giving that large fat P90 full-bodied drive & tone yet still keeping the warmth with real attack, grunt and definition. A great lead P90 sound for a bridge position pickup, sweet warmth in the neck. Single conductor, braided shield lead wire. Available in black or cream P90 pickup covers, dog-ear or soapbar.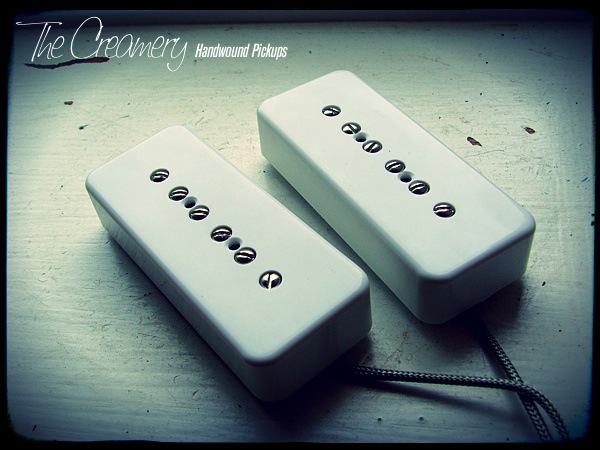 Creamery Classic '53 P90 Pickups
Creamery Custom Handwound Classic '53 P90 Pickups
Magnets: Alnico 2, 3, 4 or 5
Poles: Nickel plated steel slotted Fillister head screws
Coil Wire: 42AWG Plain Enamel
Lead Wire: Vintage Cloth Pushback or Braided
Bridge 7.5k
Neck 7.1k
Dogear or Soapbar
A lower vintage output, less attacking pickup but with a wide dynamic range. This is my brighter P90 similar to those old pickups of the early '50s. Fatter in tone than a single coil. Still with that fat P90 sound, great for warm clean tones part way between a single-coil and humbucker the Classic '53 P90 pickup won't drive an amp as much as my Classic '57 P90. The Alnico 2 being a slightly weaker magnet than the 4 or 5, gives a warmer, more vintage style tone. A great P90 pickup for those jazzier sounds. Alnico 4 is a little clearer than the Alnico 2 but ever so slightly warmer than the Alnico 5. The Alnico 5 magnets give a great bright P90 single-coil attack.
For a set I'd reccommend an Alnico 2 in the Bridge & Alnico 4 or 5 in the Neck.

Single conductor, braided shield lead. Available in black or cream P90 pickup covers, dog-ear or soapbar.
Custom P90 Pickup Designs
Often I'm contacted by guitarists who do want something more form a P90 but just love the vintage look & shape of the Soapbar or Dog-ear P90 pickup. Its with this in mind that I've designed a number of custom pickups to fit the standard P90 size that require no modifications to your guitar at all. Sometimes, the new pickup can look pretty much like a P90 though underneath, its a whole different pickup. Have a look.