Fender® Roadworn Tele Deluxe with my Wide Range Humbuckers
Tele Deluxe with Creamery replacement Classic '71 Wide Range Humbuckers
Fender Roadworn Telecaster Deluxe with Creamery Custom Handwound Replacement Classic 71 Wide Range Humbucker Pickups
Replacing Roadworn Reissue Tele Humbuckers
I make a lot of replacement Wide Range Humbucker pickups to be fitted into th emoder Fender® Roadworn & Pawn Shop series of guitars - My Classic '71 Wide Range Humbucker being  a popular choice - I make them close to the original '70s Seth Lover design for true vintage tones.
Wide Range Tele Humbuckers - Aged Covers
With the Fender® Roadworn series especially, the look of the guitar is aged, played-in - I make my Classic '71 Wide Range Tele Humbuckers to fit well, both in terms of sound and aesthetics.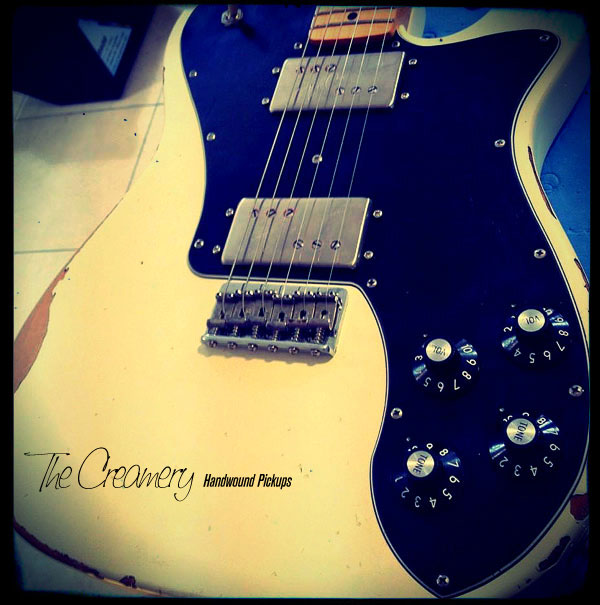 Fender Roadworn Telecaster Deluxe with Creamery Custom Handwound Replacement Classic 71 Wide Range Humbucker Pickups
True Design Wide Range Humbucker - Aged Look - Vintage Tone
"Still haven't got my hands on it yet, but the guys who are doing the work on my guitar have plugged it in and were blown away by the sound of the pickup they have said it is absolutely incredible, and these guys are guitar geeks so they are majorly fussy, they've been displaying the guitar in the shop until I come home because of how cool it looks with the ageing and the new pickups.
Thanks a lot, will be better once I get my hands on it though."
If you'd like to keep your Fender® reissue pickup cover, I can upgrade your current pickup to the more true vintage design. You can find details on the link and click on the upgrades tab.
Alternatively, if you'd like a set of replacement Wide Range Tele Humbuckers true to the original design but with pole spacing better suited to the different bridge & neck positions - then take a look at my Creamery Handwound Classic '71 Wide Range Tele Humbuckers here