Creamery Handwound Tele Custom '72 Pickup Sets
Replacement Pickups & Sets Designed for the '72 Custom Telecaster & Reissues
*and 1973, 1974, 1975, 1976, 1977, 1978, 1979, 1980, 1981 & reissue Tele Custom Guitars
My Creamery handwound pickups & sets for the 1972 Custom Telecaster (Custom '72 Tele) are direct drop replacements. Featuring a choice of handwound Bridge Pickups and my Classic '71 True Design Wide Range Humbuckers, I make them as a custom calibrated set so there's no real sudden volume jump when switching positions.
Creamery Custom Handwound Replacement Tele Custom Pickup Set
Creamery Custom Handwound Replacement '72 Custom Tele Pickups & Sets
Its one of my most popular sets and I usually make them as a custom order. I don't have pickups all boxed up ready to send out, each order is custom made which means I can make them to your own specifications if required.
I don't charge any extra for this - I see each pickup I make as a custom thing.
Calibrated Replacement Tele Custom Pickup Set - Balanced for Volume across the positions
With the original pickups & reissue pickup sets often unbalanced, there can be sudden volume drops & jumps when switching between Bridge & Neck positions. I often make Tele Custom '72 Pickup Sets to offer much more even volume levels for much more even switching.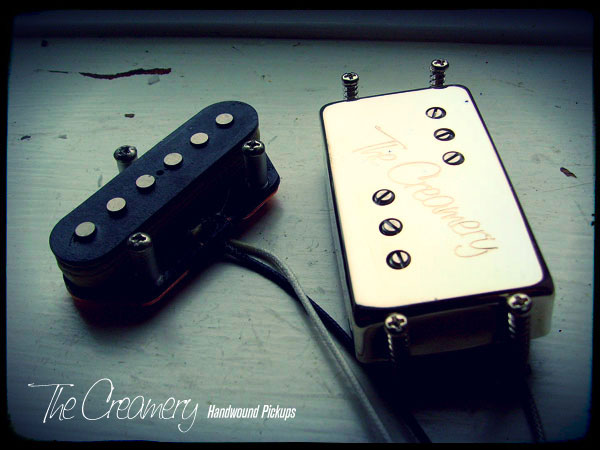 Creamery Custom Handwound Replacement Tele Custom Pickups
True Design Wide Range Humbucker for the Neck Position
Unlike the modern reissue pickups, my replacement '72 Tele Custom neck position Wide Range Humbucker is true to the original '70s Seth Lover design with individual threaded magnets and internal ferrous reflector pates. Such a versatile pickup, it balances the warmth of a humbucker with the clarity & definition of a single-coil. The original design was more of a 'Doubled'Up' single coil rather than a humbucker; you can read about my true replica Classic '71 Wide Range Humbuckers here.
Available with covers in custom yellowed bare nickel, nickel, chrome and my hand-aged chrome or nickel covers, you can order a single neck position here - Neck Position Wide Range Humbucker for a '72 Custom Tele.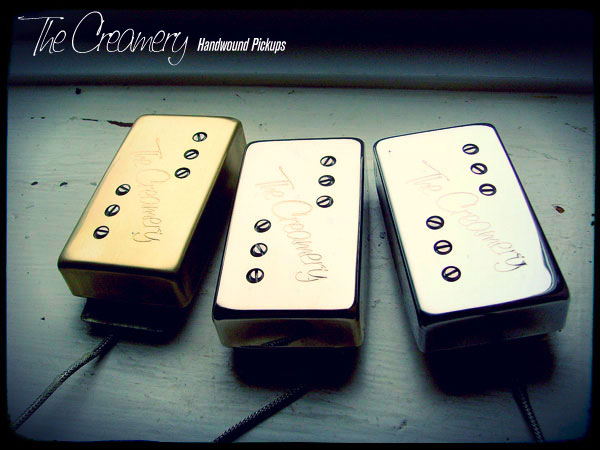 Creamery Custom Handwound Replacement '72 Custom Tele Neck Position Wide Range Humbucker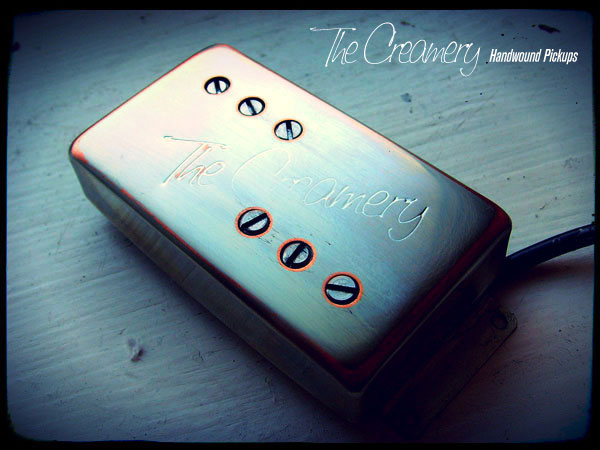 Creamery Custom Handwound Replacement Tele Custom Pickup - Custom Aged Cover
Balanced Bridge Positon Pickup
With the bridge pickup of the '72 Custom Telecaster & Tele Custom reissue guitars often much lower in output, there can be somewhat of a sudden volume ump when switching through the positions. I often custom make a '72 Tele custom bridge position to counter this and be more balanced volume-wise. Whether it be a variation on my Vintage 1 Nocaster, Vintage 2 Broadcaster, Hot Alnico 5 or Alt-88 Tele Bridge Pickup I make the set calibrated to be more even, whilst still keeping to the characteristics of the classic Tele bridge.
You can read more about my range of Creamery Custom handwound Tele Bridge Pickups here and order a Creamery Calibrated '72 Custom set here
Creamery Custom Handwound Replacement Tele Custom Pickup Set
Upgrade your reissue Tele Custom Wide Range Humbucker
As you can see from the picture, the modern Wide Range / Thinline Humbucker Telecaster Reissues are simply standard Humbucker sized coils encased in wax to fit the larger Wide Range Cover. As with standard Humbuckers they feature a bar magnet underneath, the difference being the use of threaded slugs to mimic the threaded magnets of the original late '60s-70s pickups. Having a bar magnet underneath the slugs means these pickups will have a different voice to the clarity, definition and fat brighter tone associated with the original, vintage versions.
If you'd like to keep your Fender® reissue pickup cover, I can upgrade your current pickup to the more true vintage design. You can find details on the link and click on the upgrades tab.