---
Wide Range / Thinline Tele Humbucker Replacements & Upgrades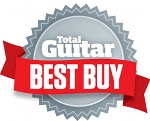 You can read the Total Guitar 5 Star/Best Buy review of my Creamery Wide Range Tele Humbucker Pickups here
"Had my first gig with it last night - it sounded awesome! HUGE improvement in tone and clarity etc and was noticed by everyone. Really happy with the product and service Jaime!"
Dave Dixon
"Wow, what a great pickup! It's just what I was looking for. A marvellous sounding pickup. Well done. Now my '72 Custom's neck pickup sounds clear and twangy, with tight bottom. I believe that you got the original's sound excactly right :-)"
Sami Saarinen
The Creamery Wide Range Humbucking Pick-ups are really amazing. I've played for a long time, have owned a vast number of guitars with single coils and humbuckers, but these are something special, indeed. They're very dynamic, you can make them go from a whisper to a roar just by the touch of your fingers. The sound is clear and bright, but with a solid bottom, never thin or spiky. I've put them in my Japanese thinline copy and they do make the instrument come alive in a very special way. Very good if you don't want to have to chose between mellowness and twang - here you have them both! 
Tomas Blom
"What to say... I am really impressed by the sound definition of these PUs. The other Wide Range that I tested before (re-issue ones) were muddy, no precise string definition and the twang of my tele was gone. This is one is trully amazing, clean, soft and subtile. Your telecatser is suddenly beathing ! About the bridge PU, with clean sound it's litterally smashing your face away ! Sounds powerfull and so precise, ready to roar ! Never heard such PUs combination before and really happy to play them today. Thanks so much Jaime for your beautiful work and patience. "
Fabz, from the band Lazarre
"It really is exactly what I was lookong for. All the twang and single note clarity my telecaster is supposed to have, but so much tighter when overdriven, like a humbucker is meant to be but with the added detail I would get from from my single coil. Thanks!"
Kyle Jernigan
"There is a real difference between these and the reissues - these are brighter/sharper and more tele like. The others were quite dark in comparison. I played it next to my single coil tele and it is now much more useable - it used to be like playing a cheap les paul at times!. Having scrutinised it all I am delighted with the sound"
Greg Dopson
"I've received the PUs yesterday and put them back in the guitar. I'm very very happy! With the CTS pots and PIO caps, the sound is great! The guitar now has that nice vintage, warm tone, no comparison with the original (crappy) reissue PUs. Thank you for your good job."
Judicaël Guesné
"They sound really good; open, punchy and very dynamic - I have to get used to all those nuances! It's like going from automatic gear to stick shift ... Played the first concert with them this saturday. It was an outdoor gig with no soundcheck, so I didn't get a chance to change the gain structure in my setup. It sounded great, and I guess it'll be even better when I some time to dial everything in."
Asger J. Steenholdt
"Its on my Telecaster Deluxe. Works awesome. Sounds great!"
Javier Rodriguez
"I cannot recommend your pickups enough Jaime ! They are everything you describe them as and more. Great Pickups...great service ! I look forward to taking the tele with me on tour in the summer with the blues festivals and club dates we have lined up ! Thanks again for giving me the tone I have dreamed of !"
Dave Dixon
You can find more details on the Wide Range / Thinline Humbucker Replacement Pickups here
---
Handwound & Custom Telecaster Pickups

Finally wired up the Tele today. The pickups are fantastic! I'm very happy. I'm gonna do some pics and clips and start telling everyone how great they are .... Been living with my Creamery Tele pickups for a while now. Best pups I've ever owned. I can't put my guitar down! It doesn't get any better than finding pups that make you want to play more
Ed 'Shed' Mitchell - Guitarist, Total Guitar & Guitar World Magazines
My black "Wilko" Tele, fitted with a great set of (Hot Alnico 5) pickups from The Creamery - Neck pickup might just be the best I've ever heard. Bridge cuts like a knife!
Steve Robinson (Guitar Tech for over 20yrs)
The only thing better than having pickups hand-made, is having pickups hand-made that sound even better than you hoped they would! Dynamic, versatile, remarkable clarity and well made - they truly are fantastic. Thanks!
Ben Butterworth
"The Hot Alnico 5 Tele Neck pickup is in! Help ma Boab! Everything I'd hoped for and more. Warm, balanced and just a bit snarly."
Dave MacLeod
Cheers Jaime !!!! Got the new pickup (Hot Tele Bridge) fitted.....it sounds amazing !! Loads off oooomph but still retaining that great "tele" sound...........I love it!
Murray McDowell
"Got the new pickup fitted.....it sounds amazing !! Loads off oooomph but still retaining that great "tele" sound...........i love it! Thanks for everything. I'm spreading the word …. First outside gig with new pup yesterday - it sang! Thanks again Jaime!"
Murray McDowell
"Pickups arrived yesterday. They sound great. Thank you. I have another few Telecasters to make so i will come to you again."
Nathan Bowler, Nathans guitar workshop
"Just played my first gig with the new vintage tele broadcaster pickup. It sounds AMAZING !! Everything I have ever wanted ! On the bridge pickup with a bit of reverb added was like a step back to the 50s in tone. Even my bass player commented that it was like BB kings tone from his 50s classic recordings. When we rocked it up with a bit of tube screamer it was out and out rock n roll ! I cannot recommend your pickups enough Jaime ! They are everything you describe them as and more. Great Pickups...great service ! I look forward to taking the tele with me on tour in the summer with the blues festivals and club dates we have lined up ! Thanks again for giving me the tone I have dreamed of ! Seriously, the tele sounds amazing..exactly as you described...the vintage bridge sounded full and fat but with plenty of bite. And It really made me play my ass off ! When your tone is there you can just concentrate on playing...I don't think I have ever sounded so good !"
Dave Dixon
You can find more details on my Handwound & Custom Telecaster Pickups here
---
Handwound & Custom Stratocaster Pickups

Oh my god, your pickups are so clear and powerful. The bass notes are deep and the sustain is incredible. The strat pickups on my 94 are good (Seymour Duncan bridge) but nowhere near yours. Thank you for such a full and clear sounding guitar. Beautiful sound. Really, I am thrilled with them. They are fantastic
Simon Moules
The single coils from the Creamery sound so much more alive and really spur on my playing; from amazing clear bell-like whispering passing notes to tones that could bite the head off an angry Pitbull, the pickups handle it all! My 60's Classic player Strat sounds so dull in comparison.
Mark Williams
The Strat pickups are exactly what I need ... they show Fender how theirs should sound
Anthony, Moose Guitars
EPIC MATE! they ring out for days - I can't say enough good things. They are so so good. I've never heard a guitar with so much tone. It's the perfect guitar now, the difference between pickups is staggering now!
Allan Hutchison
Nice job. I thought they sounded awesome too - good work. Its good to hear some replacement pickups which aren't just louder. I'll keep sending people your way!
Jack Ellis, Jack's Instrument Services
The Extra-Width Bridge pickup sounds fantastic; crystal clear yet without the 'ice-pick' treble of the pick-up I was replacing. I really like the fact it responds to my playing and it comes to life with a bit of overdrive. I wish I'd gone for the full set, perhaps I'll be back for the missing 2 when I can justify it. Thanks very much for making my guitar warmer and clearer.
James Deane, professional Session Guitarist, Producer & Engineer
I've had a good week to check out how the Classic '64 pickups sound now, and I really like them! I'm fussy too. But these are very detailed and I can hear each note when I play a chord, and complex chords are working very well. The overwinding on the neck pickup has worked out well too, all three pickups sound very even in the guitar. It is ridiculous that USA Strats come with deficient pickups, considering what they cost, but anyway, my guitar is fixed now.
Neil Newton
"Awesome mate !!! The reversed middle has a superb sound ... and when i roll the tone back .... WOW !!! Just what i wanted! Cheers again"
Murray McDowell
"Just had the Classic 64s fitted. Very nice indeed..had some high praise from folk who have heard them"
Stuart Russell
"Hi Jaime, Just to let you know I have had the pups fitted on my start and that they are absolutely great."
David Parsons
You can find more details on the Handwound & Custom Stratocaster Pickups here
---
Handwound, Custom & Vintage Jazzmaster Pickups

Hi J, Just fitted the new Jazzmaster pickups tonight. They sound great. Thanks.
Alex Kapranos, Franz Ferdinand
The (Jazzmaster) pickups are absolutely superb! - Better than anything I've fitted in the past.
Jeff Ball
I've come to the conclusion that I REALLY like these "Extra Width Jazzmaster" pickups. In the past I had a problem with the trebliness of my Antiquity II's. I like my tone quite dark and they always had a trebly edge that I didn't like, I resorted to fitting a 250K volume pot to try and tame them but I still wasn't satisfied. When I fitted the new pickups I put a 1meg pot back in, I roll the tone down to 4 and that is the sound i've always wanted - warm, full and with just enough treble. I also played my Coopersonic Dirtbox for the first proper time yesterday and the 2 seem to go together really well, i'm very happy. I also found myself using the neck pickup, which in the past I have very rarely done. I found the Antiquity II to be a bit too boomy, the new pickup is smooth and a lovely smooth sound. I highly recommend these pickups, i'm serioulsy considering a pair of Creamery Humbuckers for my B&B Jazzmaster now - i'm that impressed!
Mark Harman
Received the pickup today – installed it and it sounds wonderful. A lot fuller than the pickup it replaced. Very impressed – doesn't sound like a brand new pickup (I mean that as praise). Enough bite without being to brittle. Sounds excellent in all configurations – never was a big fan of the sound of both the pickups together until now. Thanks very much.
Neil McNaught
I fitted your pickups last night into my J Mascis jazzmaster and all I can say is wow! I was kinda hoping for a modest improvement, but the guitar sounds significantly better. Really I'm gobsmacked. Thanks very much! Once again thanks a lot, money well spent.
Gavin Gray
Gotta say that your pickups really are great and the guitar sounded superb. ust great and I would recommend to anyone.
Terry Clark
You can find more details on the Vintage & Custom Jazzmaster Pickups here
---
Handwound & Custom Humbucker Pickups

"Just love my Humbucker set. The band noticed a real difference in tone straight away. So much power & clarity. Thanks!"
Andrew Hall
"With the new pickups, the sound is less muddy and clearer in the way I wanted them to be. In terms of output, the pickups are pretty much where the stock units were but the sound has improved immensely with more clarity but with no loss of punch or the sound that made me fall in love with my guitar. I'm very happy with them."
John Haselden
"Every pickup type I have purchased from you has been outstanding value for money and impressed the shit out of me but it has to be said the P90 Humbucker is off the scale man. One word - Awesomeness!"
Allan Hutchison
"Great pickup set. My Epiphone LP came alive!"
John Graham
"I do like the sound of your Alnico 5s"
Ed 'Shed' Mitchell, Guitar & Total Guitar Magazines
"Wow! Put a Creamery 12 Pole in the Bridge to replace my standard tapped Humbucker. The difference is clear. This pickup sings. A great single coil tone with so much power as a full humbucker. Even with effects, the dynamics are still there."
Jim Edwards
"All I can say is thank you for a pair of superb pickups, they are clear, articulate, powerful with lovely sustain and they look great too. I have wired the guitar with both pickups selectable between series and parallel and two choices of tone slope. The Alnico 2/4 combination works extremely well and there is now a very wide selection of available tones. The guitar has never sounded so good, a huge improvement. I hope your business and reputation continue to grow.."
Grahame Roberts
"The pickups were actually for an upgrade to a customer's Epiphone LP so I only played them a bit. I thought the difference was very marked - a lot broader tonal range and very warm yet crystal clear - well named 'classic' actually. The customer is a beginner but he was well impressed with his new sound. I guess you would expect a big difference comparing them with stock Epis but I would recommend them to owners of higher end guitars if that's the sound they want. Your service is good too - thank you."
Martyn Ellison - DoubleStop Guitars
"Pickups fitted and they sound fantastic"
Peter Aviziurs
"My guitar now sounds F'ing amazing. Many thanks for another great pickup!"
Gavin Woodcock
"The P90 sized Humbuckers sound beautiful! Many thanks"
Pete Fletcher
"Earthquake again? No! Your Humbucker sized P90 pickup shakes this house, Thanks."
aki4cris from eBay
You can find more details on the Humbucker Pickups here
---
'Wide-O' Single Coil voiced Custom Humbucker Pickups

"The Tele is back together. Wide-Os from The Creamery sound absolutely amazing! You want chime? You want air? Love them."
Paul Roub
I did sit with the guitar and have a good listen to your pickups. They do sound rather nice, definitely humbucker fullness, but there's a sparkle to the highs that one doesn't get with a traditional h/b. I guess your idea works! Good stuff......it's always nice to find something different.
Roger Giffin, Giffin Guitars
I'm really liking them. I especially like the neck pickup, the Wide-O goes very well with the fat Wide-O in the bridge."
Mark Harman
"Sounds great! Really happy with everything. Your stuff is Spot-On."
Anthony, Moose Guitars
You can find more details on the 'Wide-O' Single Coil Voiced Humbucker pickups here
---
'Swing-O' Humbucker Sized Filtertron Style Pickups

"Hi J, Received the pickups yesterday and just got them installed ... exactly what I hoped for! Just perfect for my custom-made 335 guitar."
Anssi Hautamäki
"...sounds brilliant, clear as day, lovely & hollow with all the low end I could desire. Very chimey like the Byrds"
Simon D Holmes
"Great sounding pickup! thank you.s"
halobrace from ebay
"I was looking for some cool new pickups for my guitar and I ended with buying The Creamery's Swing-O's, awsome filtertron styled pickups, with the retro "H" cover you expect from this kind of toy, but with a tone that goes further my expectations! These pickups has all the brightness I wanted, a wonderful Setzer-ish twang that turns my 335-styled semi-hollow in a perfect machine for rockabilly, surf, country and all those cool retro "Pulp" tunes that I love. But the good news is that the bottom end of your sound is still there, you finally don't have to sacrifice the body of your sound to have all that awsome sparkle! But that's more, just a little turn on your tone knob, and here's a classic humbucker sound for your rock-blues riffs and licks, but I use them wonderfully even in jazz tunes, giving me a little more attack to get through the mix than standard jazz-boxes, thing that I really appreciate. Yeah, you read it right, no compromises from now on! Anyway, just to dispel any doubt, I wasn't given any money or something for what you read :D I really like these pickups (actually I payed for those! they have reasonable prices btw, take a look) and Jaime is a really nice guy!"
Eva's Gang
You can find more details on the 'Swing-O' Filtertron style Pickups here
---