Custom Handwound Replacement Wide Range / Tele / Thinline Humbucker Pickups
Wide Range/Thinline Humbucker Replacement Pickups & Reissue Upgrades

One of my favourite pickups, I spent 18mths developing, testing & refining this replica pickups. Here you have it, a new, true spec replacement for those Fender® Seth Lover Wide Range/Thinline Tele Custom & Deluxe Humbucker reissues.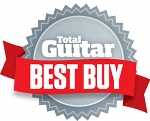 Whereas the original Wide Range/Thinline Humbucker pickups had threaded CuNiFe magnets, the modern reissues are merely a standard humbucker with bar magnet and pole screws dressed to look like a vintage Wide Range Pickups. With the right capacitors & potentiometers, they're not a bad pickup at all – they just don't have the clarity & dynamics of the original Wide Range/Thinline Tele Humbucker. My new versions are true to the original design with custom manufactured threaded, adjustable magnets and I've created two varieties – a full sized version intended to be a direct drop-in replacement for the current Wide Range/Thinline Tele Humbucker reissues and a slightly scaled down version to fit standard humbucker size. More details under the tabs below.
Handwound in my workshop here in Manchester.