Custom Handwound Replacement Vintage and Modern Jazzmaster Pickups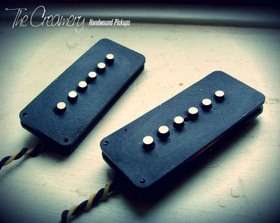 Custom Handwound Replacement Vintage and Modern Jazzmaster Pickups
Vintage Jazzmaster pickups are unique, their sound synonymous with the 50s & 60s Surf sounds and the post-punk & alternative scenes from the late 70s onwards
With a wide yet short single coil, much of the wire travels further away from the pole magnets, giving the distinctive dark twang. Unlike many modern Jazzmaster pickups, I build my replacement pickups to the vintage correct shallow height to get the correct vintage Jazzmaster pickup sound. Often associated with surf guitars and modern day alt/indie bands such as Sonic Youth, Dinosaur Jnr & My Bloody Valentine, even Ex-Smiths guitarist Johnny Marr plays a Jazzmaster.
If you'd like a custom set of Replacement Jazzmaster pickups - just get in touch with details of the kind of tone/voice/output you're after and I'll see what I can do.
All my replacement Jazzmaster pickups are handwound at my workshop here in Manchester.
NOTE: All my standard 6-Pole Replacement Jazzmaster Pickups are vintage correct 51mm Pole spacing but I can create a custom set with alternative pole spacing - Just get in touch.