Custom Handwound Replacement Vintage and Modern Telecaster Pickups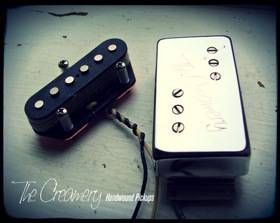 Custom Handwound Replacement Vintage and Modern Telecaster Pickups
From vintage inspired sets to modern, higher output replacements & purely custom designs, here are my handwound Telecaster pickups.
Choosing the right replacement pickup can be a daunting process - Give me a call or drop me an email with your requirements (tone/voice/output etc) and I'll either recommend a set or wind you a custom Replacement Telecaster pickup set based on your own personal specifications. I don;t have pickups all boxed up ready to send out, each order is custom made so I often tailor the designs to suit each individual guitarist & guitar.
You can buy a complete Bridge & Neck Telecaster Replacement pickup set here - Any combination of Tele Bridge & Neck (There's a discount if you buy a set).
*NOTE: I wind my pickups RW/RP as standard but you can request vintage non-RW/RP or alternative polarities to work with a current pickup - Just give me a call or drop me an email. Also, if you're unsure about matching my pickups with other makers', then just leave me a note asking for a seperate ground wire for the Tele Bridge Baseplate and/or Neck Cover. That way you should be able to ensure correct in-phase whilst still grounding the baseplate & cover.
All my pickups are handwound at my workshop here in Manchester.