Reissue Wide Range/Thinline Tele Humbucker Upgrade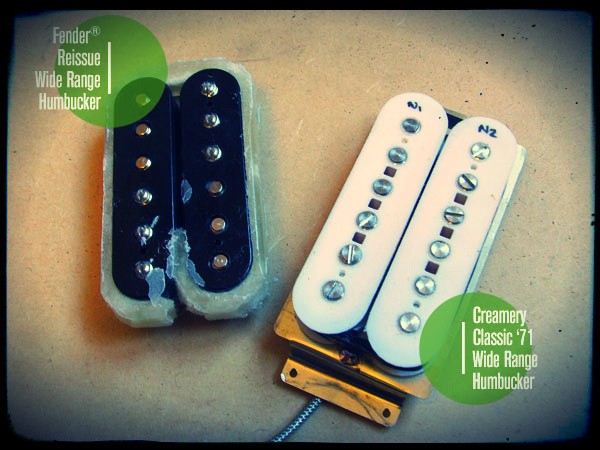 You can find more details of my modern, vintage Wide Range Humbucker pickups & upgrades on the main site. Below is a blog post on the actual upgrade of both a modern & older Japanese Fender® reissue Wide Range Humbucker.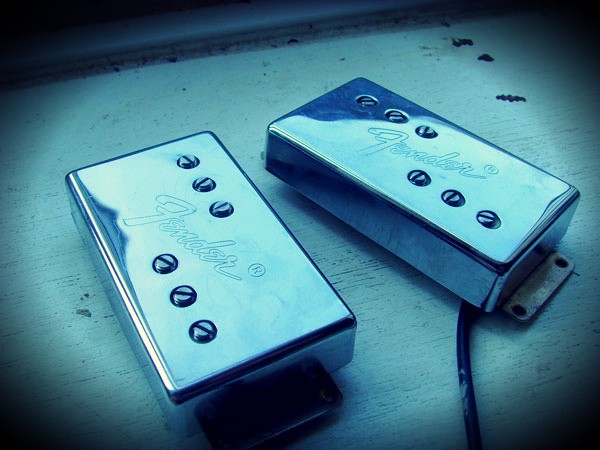 A Set of Creamery Fender® Reissue Wide Range Humbucker Upgrades - True to the original 70s design
Old vs New
As you can see from the picture, the modern Wide Range / Thinline Humbucker Reissues are simply standard Humbucker sized coils encased in wax to fit the larger Wide Range Cover. As with standard Humbuckers they feature a bar magnet underneath, the difference being the use of threaded slugs to mimic the threaded magnets of the original late '60s-70s pickups. Having a bar magnet underneath the slugs means these pickups will have a different voice to the clarity, definition and fat brighter tone associated with the original, vintage versions.
Removing the cover
Using a sharp blade I carefully slice through the old solder. Rather than desoldering, I cut through so later I can simply let the solder flow when reattaching the cover once the upgrade has been completed.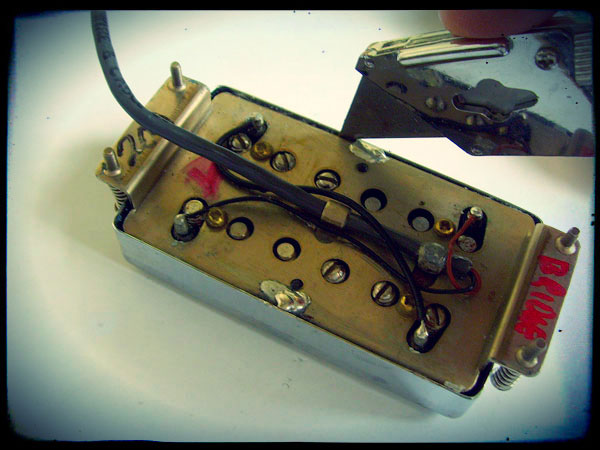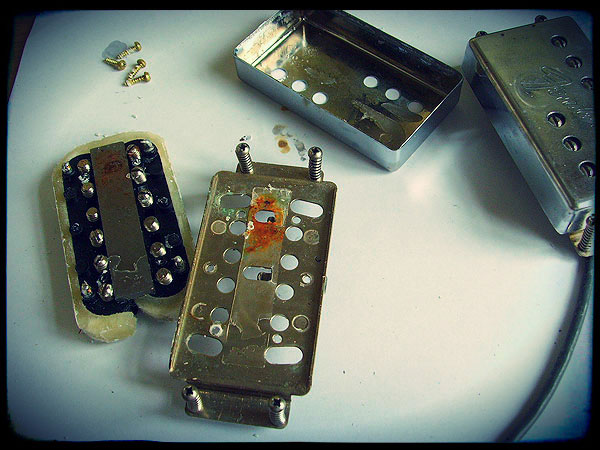 Inside its clear that the pickup is simply the standard humbucker design, and this accounts for the much darker tone. To achieve the output of the original Seth Lover '70s pickups, Fender® overwind the coils on these modern Wide Range Humbuckers. The nature of overwinding pickups tend to create a darker pickup which when coupled with the bar magnet underneath can make these modern reissues difficult to brighten up and can often appear muddy in the neck position. A change of pots & caps can help but the tone would still be unlike the original.
The original design had 6 individual threaded pole magnets and a ferrous reflector plate (similar to the baseplate found on the underside of a Telecaster bridge pickup). This original design allowed a much higher output pickup that kept the clarity, string definition and higher frequencies.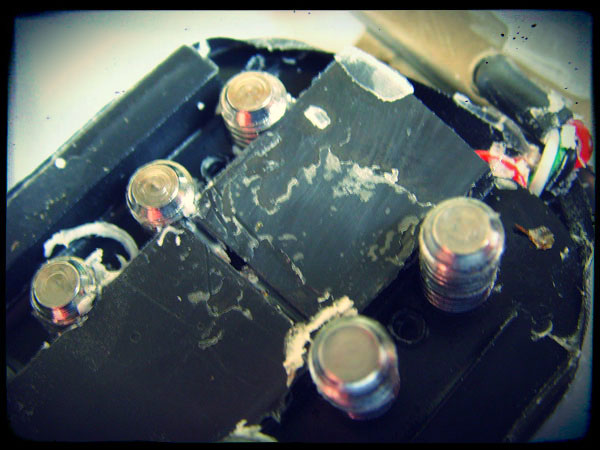 As you can see from the picture above, this particular reissue had 2 magnet pieces waxed together underneath the coils.
Threaded Pole Magnet vs Standard Humbucker Bar Magnet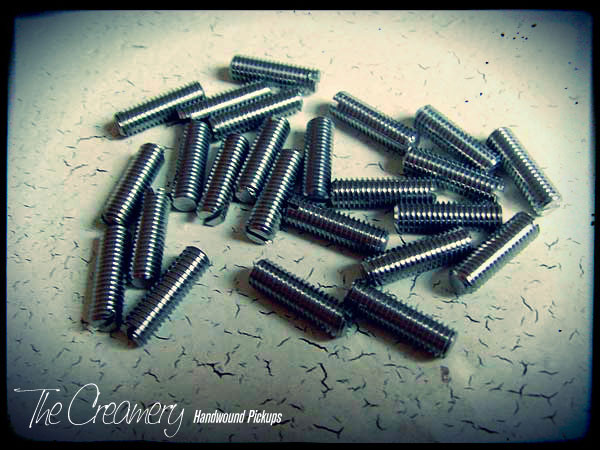 Creamery Custom Threaded Magnets for Wide Range Humbucker
Like the original, my Wide Range Humbucker upgrades use threaded adjustable magnets. CuNiFe is prohibitively expensive now so I use FeCrCo which is very similar to Alnico but with more stable magnetic properties, threaded to enable adjustment of the poles. The individual magnets and custom scatterwound coils help give great clarity and string definition, with a 'fat' brightness unique to this design of pickup. The adjustable pole magnets allow you to emphasise certain strings and follow the radius of your guitar neck.
As the FeCrCo threaded magnets could be more aligned with Alnico 5 in terms of 'colouring the sound' I offer two options with these upgrades. One version with 12 threaded poles which keeps the brighter attack and another version with six adjustable threaded poles and six corresponding Alnico 2 rod magnets to give a slightly warmer tone.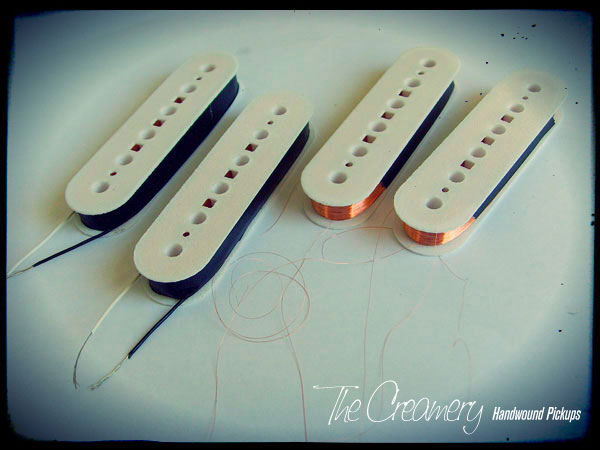 Creamery Custom Full-Size Bobbins for True Wide Range Humbucker Handwound Coils
The reissues generally have standard humbucker sized bobbins which means the coils are shorter & narrower whereas both the original '70s design and my new upgrades have full size bobbins that fill the length of the pickup. I custom make mine to be the same dimensions as the originals.
Upgrading the Pickup
The new full size coils are fixed to the baseplate on top of the new custom made ferrous reflector plate. This plate helps to increase the inductance of the coil (like increasing the number of turns of wire) giving a higher perceived output. The steel plate also offers Electrodynamic functions (eddy current interference). Eddy currents shift the resonances toward the lows, resulting in a fatter, more pleasant tone.This coupled with the individual threaded pole magnets offer a clarity, string definition & that "doubled up" tele-like tone unique to this design of pickup.
The coils and reflector plate are screwed down tight before the lead wires are connected. Another great thing about the design of the original Wide Range Humbucker that with 4-way wiring, the pickup can be split into a true single coil.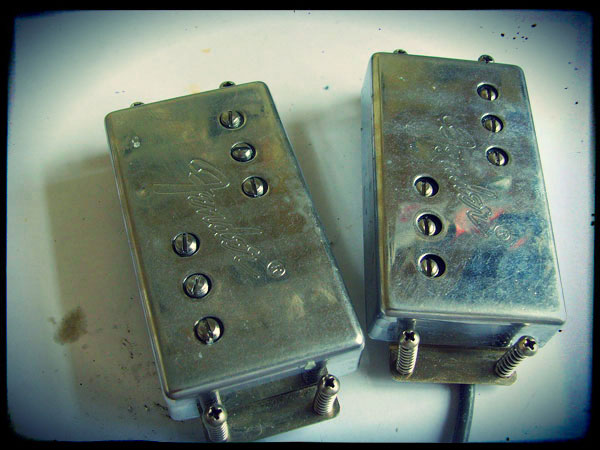 LEFT: Creamery Wide Range Humbucker Upgraded Pickup - RIGHT: Original Reissue
As you can see, the pickup looks pretty much exactly as it did before, the difference being that inside, its completely different - and now true to the original design. Listen to a video/audio demos of the neck pickup upgrade for yourself:
Creamery Wide Range Humbucker (Neck) Upgrade Audio/Video Demo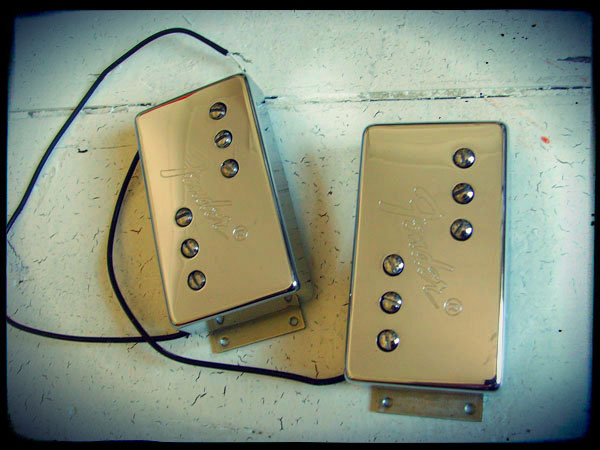 As you can see from the picture above, the upgrades look just like the originals. So if you're after that vintage Wide Range Humbucker tone and want to keep your Fender® covers, then my Creamery Wide Range Humbucker Reissue Upgrades could well be for you. Available in three options, you can find details of them here.
Reviews of my Custom Wide Range / Thinline Humbucker Replacements / Upgrades
"Had my first gig with it last night - it sounded awesome! HUGE improvement in tone and clarity etc and was noticed by everyone. Really happy with the product and service Jaime!"
Dave Dixon
"Wow, what a great pickup! It's just what I was looking for. A marvellous sounding pickup. Well done. Now my '72 Custom's neck pickup sounds clear and twangy, with tight bottom. I believe that you got the original's sound excactly right :-)"
Sami Saarinen
The Creamery Wide Range Humbucking Pick-ups are really amazing. I've played for a long time, have owned a vast number of guitars with single coils and humbuckers, but these are something special, indeed. They're very dynamic, you can make them go from a whisper to a roar just by the touch of your fingers. The sound is clear and bright, but with a solid bottom, never thin or spiky. I've put them in my Japanese thinline copy and they do make the instrument come alive in a very special way. Very good if you don't want to have to chose between mellowness and twang - here you have them both!
Tomas Blom
"What to say... I am really impressed by the sound definition of these PUs. The other Wide Range that I tested before (re-issue ones) were muddy, no precise string definition and the twang of my tele was gone. This is one is trully amazing, clean, soft and subtile. Your telecatser is suddenly beathing ! About the bridge PU, with clean sound it's litterally smashing your face away ! Sounds powerfull and so precise, ready to roar ! Never heard such PUs combination before and really happy to play them today. Thanks so much Jaime for your beautiful work and patience. "
Fabz, from the band Lazarre
"It really is exactly what I was lookong for. All the twang and single note clarity my telecaster is supposed to have, but so much tighter when overdriven, like a humbucker is meant to be but with the added detail I would get from from my single coil. Thanks!"
Kyle Jernigan
"There is a real difference between these and the reissues - these are brighter/sharper and more tele like. The others were quite dark in comparison. I played it next to my single coil tele and it is now much more useable - it used to be like playing a cheap les paul at times!. Having scrutinised it all I am delighted with the sound"
Greg Dopson
"I've received the PUs yesterday and put them back in the guitar. I'm very very happy! With the CTS pots and PIO caps, the sound is great! The guitar now has that nice vintage, warm tone, no comparison with the original (crappy) reissue PUs. Thank you for your good job."
Judicaël Guesné
"They sound really good; open, punchy and very dynamic - I have to get used to all those nuances! It's like going from automatic gear to stick shift ... Played the first concert with them this saturday. It was an outdoor gig with no soundcheck, so I didn't get a chance to change the gain structure in my setup. It sounded great, and I guess it'll be even better when I some time to dial everything in."
Asger J. Steenholdt